last updated:

6 September 2021

compatible browsers:

IE11, Firefox, Safari, Opera, Chrome

compatible with:

Facebook, bbPress 2.5.x, WooCommerce 6.x.x, WPML

software version:

WordPress 6.1.x, WordPress 6.0.x, WordPress 5.9.x, WordPress 5.8.x, WordPress 5.7.x, WordPress 5.6.x, WordPress 5.5.x, WordPress 5.4.x, WordPress 5.3.x, WordPress 5.2.x, WordPress 5.1.x, WordPress 5.0.x

files included:

PHP Files, CSS Files, JS Files

layout:

Responsive
Description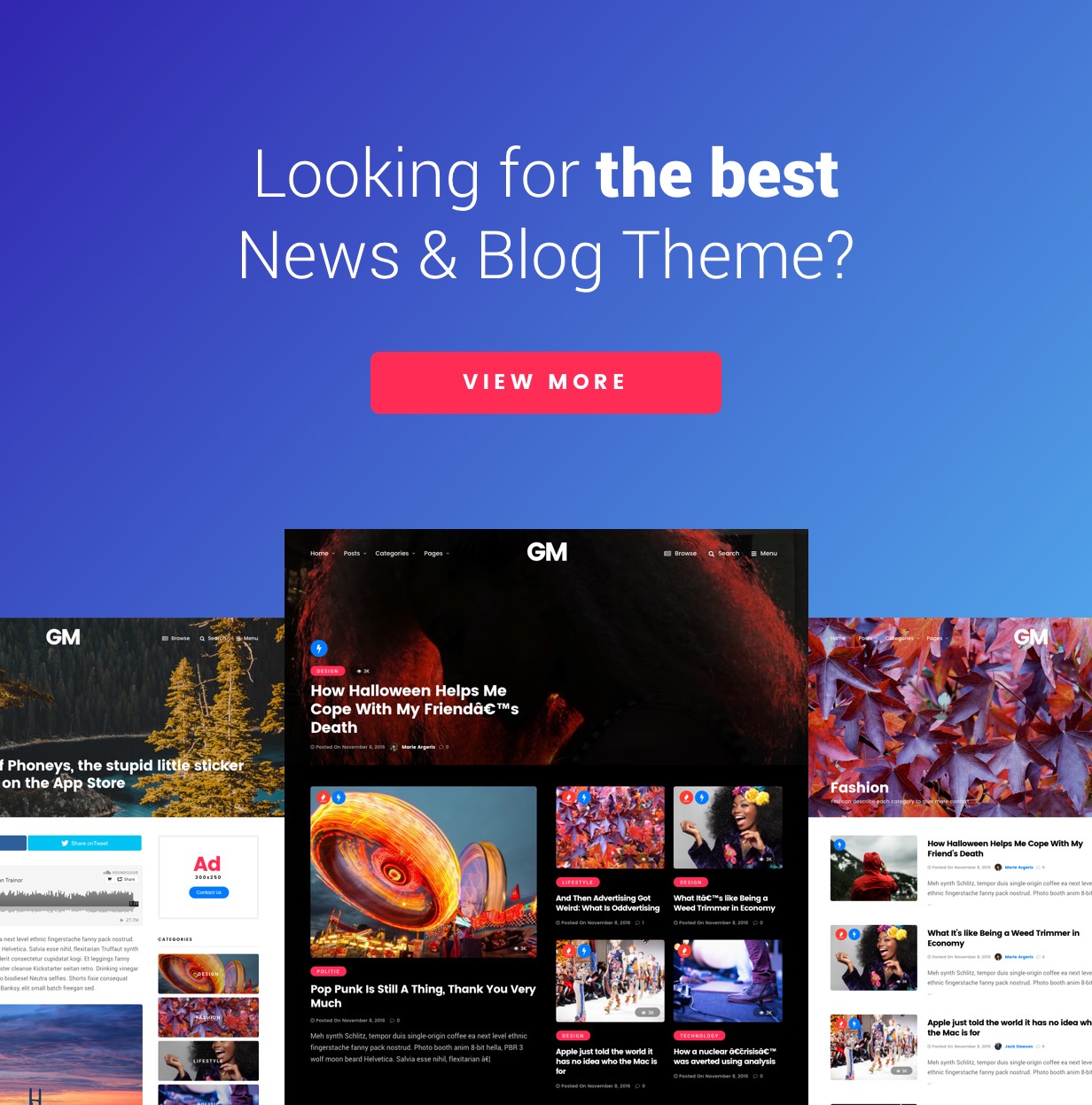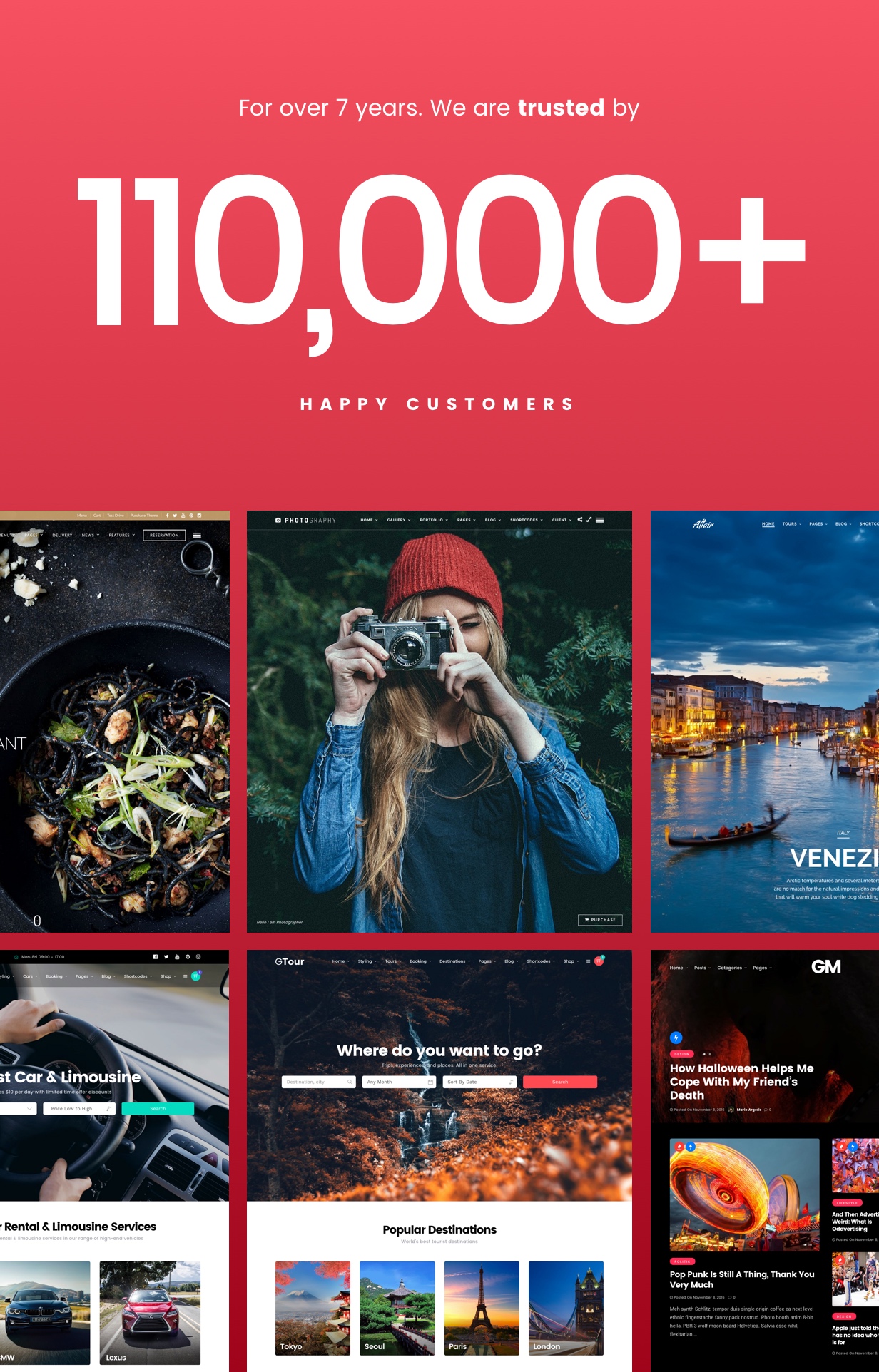 Features
Clean, Minimalist Design can be used for any blog, newspaper, editorial and magazine website
Responsive Design which adapts to mobile devices (iPhone, iPad)
Deactivate responsive features with one click in your backend
Off-Canvas Mobile Navigation
Drag&Drop Content Builder
Rich Video Background Content Support
Many Post Options ex. Image, Gallery, Video or Audio
Instant AJAX Search
AJAX Filterable Post Category
Parallax Background Content
Retina Ready, Ultra-sharp High Resolution Graphics
Breaking News
Sticky Main Menu Navigation
4 Category Templates
Customisable Elements Colors
Translation Ready with mp/po files
WPML plugin support for Multi-language
Review Plugin Included ($14 value)
Social media Profiles Support
Installable Google Web Fonts
300+ Ready to use Google Web Fonts
CSS and javascript compression support
Built-in Related Posts base on tags
Interactive More Story Module for better content navigation
bbPress Forum Plugin Support
Easily customize elements colors using color picker
Styled typography and flexible page columns
Built-in Many Shortcodes
Style shortcodes ex. dropcap etc.
Column shortcodes ex. 2, 3, 4, 5, 6 columns
Built-in Shortcode Generator plugin
Wordpress custom menu support
Free Theme Updates and Support
Facebook, Twitter and Google+ integration
Unlimited sidebar. Create and select sidebar for each of your page!
Contact us page with validation and fullscreen Google Map support
Extensive Theme Documentation
Video Tutorial Included
Free Lifetime Updates and Support
Separated Custom CSS section in Theme Admin Panel
Custom Sidebar Support for pages
Built-in top, bottom and advertisement widget support
Child Theme support for advanced customisation which is not affected by theme future updates
Changelog
= V1.0 - 02.01.2014 =
* Initial Release
= V1.1 - 08.01.2014 =
* Fix main menu background issue
* Fix review plugin broken files
= V1.1.1 - 21.01.2014 =
* Fix slider items setting issue
= V1.1.2 - 13.03.2014 =
* Fix pp_gallery gallery list empty issue in shortcode generator.
= V1.2 - 20.03.2014 =
* Add fallback image option for video background
* Fix parallax background issue on touch screen devices
* Fix ads banner responsive issue
* Fix incorrect resizing post image for post content builder module
= V1.2.1 - 21.03.2014 =
* Fix incorrect resizing post image for column post content builder module
= V1.2.2 - 28.03.2014 =
* Update translation files
= V1.2.3 - 08.04.2014 =
* Fix 2 columns classic blog in content builder display issue
= V1.2.4 - 19.05.2014 =
* Add latin extended support for Google Font
= V1.2.5 - 14.08.2014 =
* Fix comment author name and website display issue
= V1.2.6 - 22.08.2014 =
* Fix content builder blog category module display issue
= V1.2.7 - 04.09.2014 =
* Fix missing translation text in comment
= V1.2.8 - 02.11.2014 =
* Fix single post featured gallery display issue when enter custom HTML code to its title and description
= V1.3 - 05.01.2015 =
* Update fix for possible security issue with theme contact form
= V1.3.1 - 12.01.2015 =
* Add link to author post page in single post page
= V1.3.2 - 07.03.2015 =
* Fix blog template pagination issue when set as homepage
= V1.3.3 - 15.03.2015 =
* Fix blog template next, previous buttons issue when set as homepage
= V1.4 - 13.07.2015 =
* Update review plugin to v2.1.3
* Fix Facebook like and Youtube subscriber counters issue
= V1.5 - 06.04.2017 =
* Update review plugin v2.2.3
* Fix all WordPress 4.7+ notice issues
= V1.6 - 25.06.2018 =
* Add support https site
* Fix Google Maps no API key issue
= V1.7 - 05.06.2019 =
* Fix content builder disappear issue with WordPress v5.0
* Check PHP 7.2 compatibility
= V1.8 - 13.08.2020 =
* Fix theme setting javascript error with WordPress 5.5
* Add support for WordPress 5.5
= V1.9 - 06.09.2021 =
* Fix content builder saving issue with WordPress v5.8